Lavenders Care Home, West Malling
Residential Care Home in Kent
Lavenders Road, West Malling,
Welcome to Lavenders, a family owned and run residential care home situated in the pretty market town of West Malling, in the heart of the Kent countryside
Lavenders is a warm and welcoming family owned and run residential care home offering exceptionally high quality elderly care in a beautiful environment. Conveniently located close to West Malling high street in Kent, yet in an idyllic rural setting, we are very proud to have created a kind, empathetic, resident-centred care home for the elderly and physically frail from a splendidly refurbished Regency family home with added modern wings of purpose-built accommodation.
Established in 1983, and both owned and managed by the Webb family, here at Lavenders we are dedicated to providing a safe, happy, fulfilling and enriching home-from-home environment for the 53 residents who live here.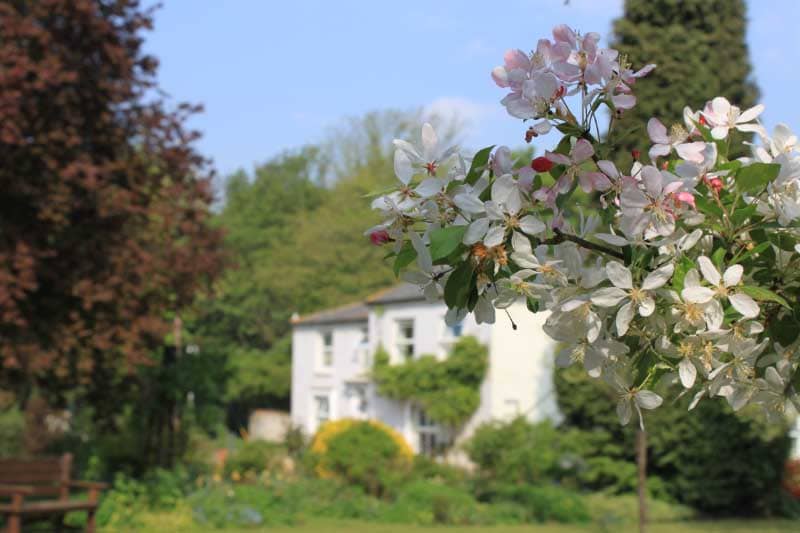 Providing exceptional care in a relaxing, comfortable setting while encompassing personal tastes and individual requirements is our top priority – and is at the heart of everything we do.
A beautifully safe environment
In addition to our elegant house, we have purpose-built accommodation organised across three wings, with the majority of residents' rooms at ground level for safety and ease of access. Each wing has its own dining area and lounge for either peace and quiet or convivial company, depending on personal preference. Our single rooms come with en-suite toilets for increased privacy and personal space and some rooms also have the option of a shower.
Tastefully decorated and maintained to a high standard, all rooms offer lovely garden views. We also have terraces and sun decks overlooking the pretty landscaped gardens so that residents can enjoy the sights and sounds of nature as well as visits from local wildlife. You can find out more about our range of accommodation options here.
Freedom to choose
We want all residents to feel that this is their home and that they are free to live how they choose, while retaining their interests and hobbies as much as possible. We have an impressive range of activities  going on every single day and enjoy day trips and regular contact with our wider community, too.
We recognise the importance of good food at Lavenders and ensure there is plenty of choice at mealtimes. Our talented catering team create delicious home-cooked breakfasts, lunches and dinners every day and take great care to cater for a full range of tastes and dietary needs, including diabetic, vegetarian or gluten and lactose free. Our seasonal menus are created using fresh ingredients sourced from local businesses wherever possible and our delicious homemade cakes are a favourite with both residents and their visitors.
Lavenders' ethos – a true family
When looking at residential care for a loved one, it can be difficult to know what to look for. Yes, it's important that the accommodation is attractive and meals look tasty, but elderly care is about much more than the superficial. What really matters is a care home's ethos and approach to how they care for and treat those who live there.
At Lavenders we have a high staff to resident ratio and our dedicated, long-serving, highly trained team provide consistent, loving care that comes from the heart.
We truly believe that while care giving is a skill that can be taught through appropriate training, the ability to care with warmth and compassion is inherent. Here at Lavenders we are extremely fortunate to have a professional care team who possess kindness and empathy in abundance.
We treat everyone like a family member here and encourage loved ones to become involved in our residents' day-to-day lives as much as possible. As a result, we are frequently told by visitors that they can tell the minute they walk through the door that Lavenders feels homely, with a genuine, caring family feel  (you can read their thoughts here .) And we know that we provide a safe, secure home to happy and relaxed residents who thoroughly enjoy living here. Our caring ethos is explained in full here. 
Here to help
We know that choosing a care home is a big decision and raises so many questions. We offer a trial period to all potential residents and look on this as a chance for everyone to catch their breath and think about life going forward.
We are also very experienced and adept at helping new residents through the transition and settling in periods and are here to answer any questions you may have.
You may find the answer to your questions here but if not, please don't hesitate to give us a call on 01732 844744. You can also find all our external reports and independent reviews available for you to read here. 
Situated close to West Malling High Street but surrounded by beautiful Kent countryside with plenty of choice for days out, we are not far from Kings Hill and Maidstone, too. Read more about how to find us here
– 53 single rooms with toilet (some with showers) & garden views
– Garden rooms with access to a terrace
– 5 dining rooms; 5 sitting rooms; conservatory
– 10 WCs and 8 assisted bathrooms
– Couples accommodated
– Respite and holiday care available
No one is bored at Lavenders – there's a range of activities to suit all tastes and plenty of scope for those who prefer peace and quiet, too. We use our minibus for day trips and enjoy local school performances and celebrations. 
Our long-serving team is dedicated to treating everyone with dignity, respect and empathy to provide a safe, happy home to relaxed, contented residents who thoroughly enjoy living here
Dedicated, empathetic, well trained, professional and committed to caring… we have over 60 staff members here at Lavenders, many of whom have been with us for decades. Proprietor Marcus Webb  together with his wife Emma Webb who is the Office Manager, manage the Business, while Registered Manager, Candyce Brockwell, and Deputy Manager, Jackie Haslam, are responsible for the care and welfare of both residents and staff.
Everyone works hard to ensure things run smoothly in a calm, reassuring and relaxed way. We may have lovely accommodation and a beautiful location, but it's our team of carers, housekeepers, maintenance staff, talented cooks and creative activity leaders that make Lavenders the wonderful home it is.
At Lavenders we treat everyone as an individual. With over 35 years' experience, we know that elderly care involves gently supporting people with their changing needs while helping to maintain interests, hobbies and independence. Self-realisation, dignity and personal choice are all key elements of this and we strive to ensure our ethos of enablement and support is at the heart of everything we do.
We pride ourselves on great communication and encourage residents, their loved ones and our wider local community to keep in touch on a regular basis.
We have free Wi-Fi access throughout our buildings so that residents who wish to can make video calls to loved ones; our Facebook page is regularly updated with news of activities and we issue regular newsletters to keep everyone up to speed with life here.
You can read some of them here
We look forward to welcoming you